Watch our in-house Wide Receiver #81, Roger Carr, in this video!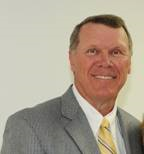 Roger Carr, Pastor
 Pastor Roger Carr is a native of Seminole, Oklahoma, Roger moved to Cotton Valley, Louisiana at the age of fifteen to live with his grandparents. It was in Cotton Valley that he first began to attend church and became a born again Christian. 

You wouldn't know it by his humble attitude, but Pastor Roger was a superstar in his younger days. He was the Colts' first-round draft pick in 1974, played in the 1976 Pro-Bowl, and spent a total of ten seasons in the National Football League.  Known as "Louisiana Lightning", Roger's sure hands, running speed, and on-field chemistry with quarterback Bert Jones resulted in some of the Colts' most legendary moments.  His record with the Colts included 254 receptions for 4,770 yards and 29 touchdowns.  After playing with the Colts, he played for the Seattle Seahawks and the San Diego Chargers.
 
After Roger's NFL career ended, he coached football in various schools and community colleges, and came to Chapel by the Sea from Charlotte, NC., where he coached high school football and worked with autistic children. In 2012, our record-setting former wide receiver Pastor was inducted into the Louisiana Sports Hall of Fame!
 
After years of experience as a Sunday School teacher, deacon, lay minister and special event speaker, Roger began preaching and teaching Sunday School at Chapel By The Sea, and was ordained and installed as pastor of Chapel By The Sea in February, 2012.
 
Pastor Roger  and his wife, Undine, have two adult sons and 4 granddaughters.
Hear our Pastor and
former NFL wide-receiver, Roger Carr,
by clicking on the link below.
This is an interview that aired
Easter Sunday, 2015
http://sport.org/podcasts/the-resurrection-a-time-of-celebration-podcast/
We are so blessed that God sent
Roger Carr to be our Pastor here at
Chapel By The Sea!
Above is a link to the
Sport.Org Radio Podcast
aired on Easter Sunday.
Listen to our Pastor Roger
being interviewed in
 "The Resurrection: A Time of Celebration."
(He is on the last half of the program)